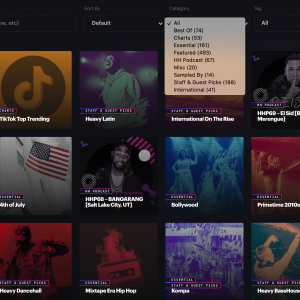 One of the most important skills that any DJ can develop is the ability to work out what is hot, and what is not. There's a tightrope to be walked between playing things that you can safely rely on to move a crowd, and playing things that differentiate you from the other DJs out there.
Here's a few ways to keep your crates that perfect mix of crowd-pleasing and individualised!
Heavy Hits curated playlists
Given the website we are on, I can't ignore the brilliant custom playlists available over in the pool. You can search by keywords, genre tags, category and more – and pretty much every genre and era you could think of is covered, selected by an expert in that field. There's a great mix of crowd-pleasers and overlooked classics to choose from. We all also have associated Spotify/Apple playlists for some of these, so you have multiple ways of checking these tunes out!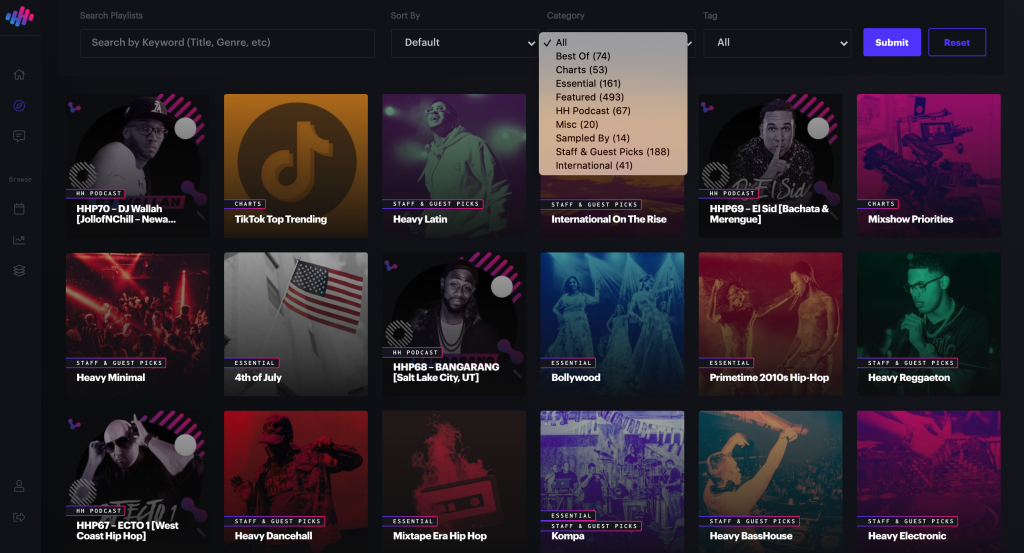 As well as the playlists, you also have the charts to look into, where you can break things down by different time spans – the most recent 7, 30, 90 and 365 days, so you can either have the most popular recent things, or stuff that has been big over the last year.
Tik Tok Trending Tunes
As you can see above, Heavy Hits has Tik Tok Top Trending playlists that it puts out. And in the music landscape of 2020, where almost no clubs or festivals are happening to keep an eye on dancefloor trends, Tik Tok is one of the quickest ways to find out what songs are familiar and popular, especially with younger listeners.
Chartmetric has recently started keeping a chart to show the weekly changes in songs' popularity on the popular social media platform. There are some fascinating metrics included, and if you are looking to spot trends as they emerge on Tik Tok, its a very useful source of information.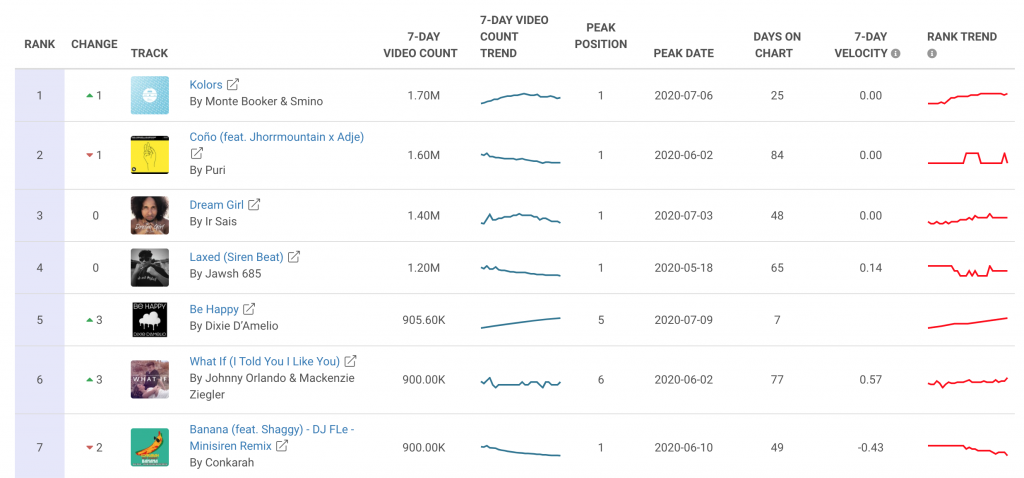 Spotify playlists
One of the best life-hack DJ tricks I've learnt in recent years is using Spotify playlists to dig into specific styles. Even in genres you know really well, this can be a great way to learn about tracks and artists you had missed. It is incredibly simple; create a playlist, name it something reasonably descriptive (eg, "90s R&B" or "Songs about money"). If you want, enter some info into the playlist description with useful keywords for the algorithm to use. Even just 5 tunes is enough to give Spotify a decent idea, then it will suggest tunes. The more you add to the playlist, the better an idea of what you want it has.
A friend set one up for background music at an event, wanting songs about money, and it worked it out straight away, giving him dozens of options he never would have thought of otherwise!
If you get booked for a function and they want you to include a genre that you don't know a lot about, this is an amazing shortcut – just get the client to give you half a dozen suitable songs, and then let Spotify do the digging on your behalf, and pick the ones that you think work!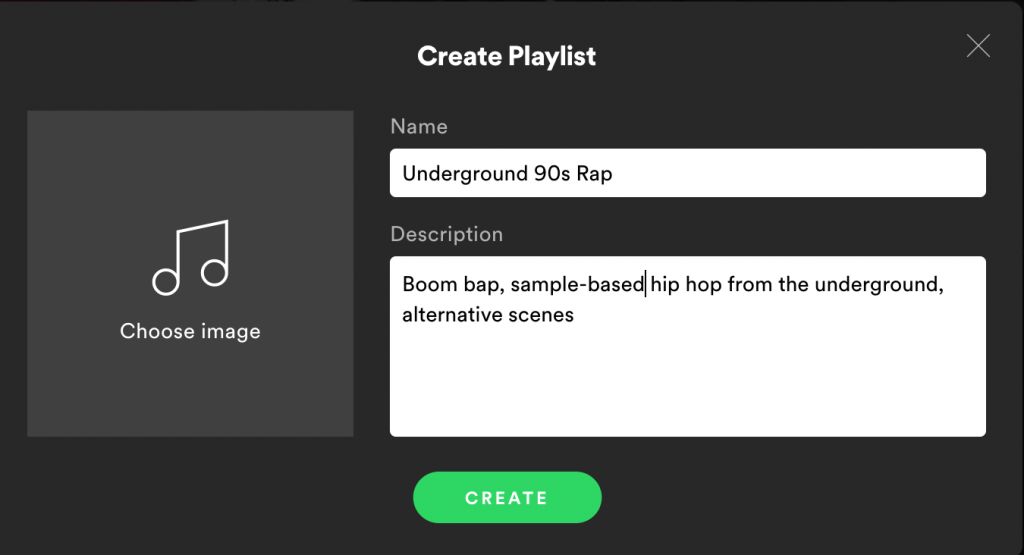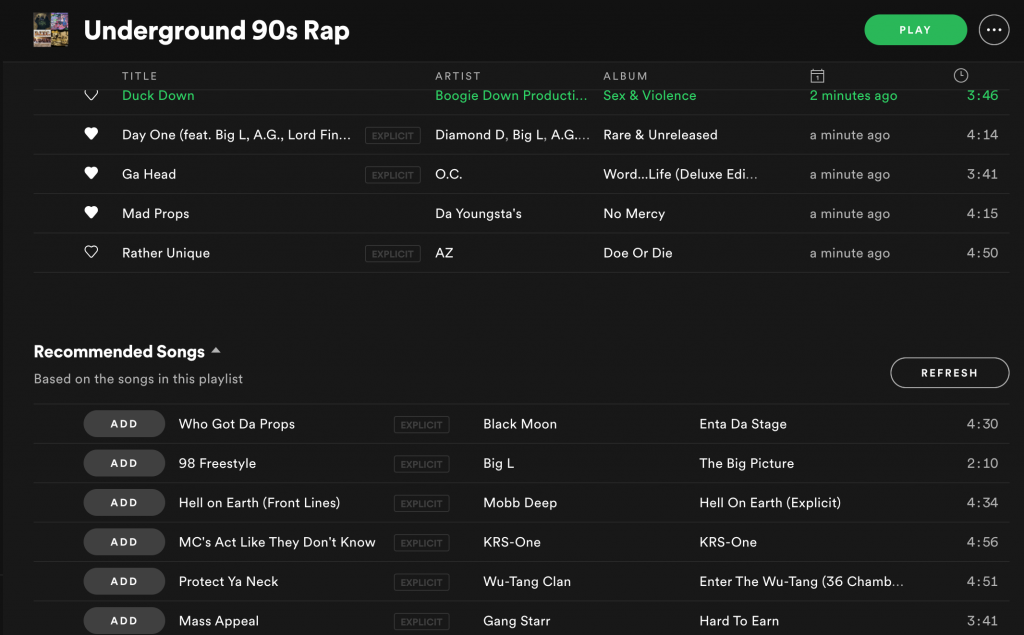 It is also worth keeping an eye on the charts on streaming platforms, which can usually be viewed for different territories, or globally. And the big curated playlists have a huge influence on what songs blow up in the mainstream.
Radio Station playlists
It has long been the case that radio drives a lot of what the public ends up enjoying, and a great shortcut for following this (if you haven't got the time to listen to a bunch of different stations) is to regularly check out their playlist pages. Hot 97 has their New AF! page, which is also available simply as a Spotify playlist. The BBC break their radio playlist down into A list, B list and C list, and from this page you can check their more specialist stations as well from the links at the bottom. The BBC's main music radio rival, Capital FM, is here.
Depending on where you are and what music you play, its very likely you can Google the top stations' playlists for pages much like the above!
Shazam
Times have come a long way since I started DJing in the mid 90s – if I heard a song on the radio but missed the announcement of who it was by or what it was called, I was stuffed. Same in the club – if I didn't go and ask the DJ, or if the DJ didn't feel like telling me, I could leave a club wondering if I'd ever hear that song again.
Now you can grab your smartphone, fire up Shazam, and within seconds it usually tells you the song, artist, adds it to your Shazam library, maybe sends it to your linked Spotify playlist… its crazy!
And of course, Shazam can keep charts of what is being Shazammed! If millions of people are getting their phones out to find out the name of a song, you can guess that it is proving popular. This can lead to some interesting revivals of old songs, which have been in an advert, film or TV show!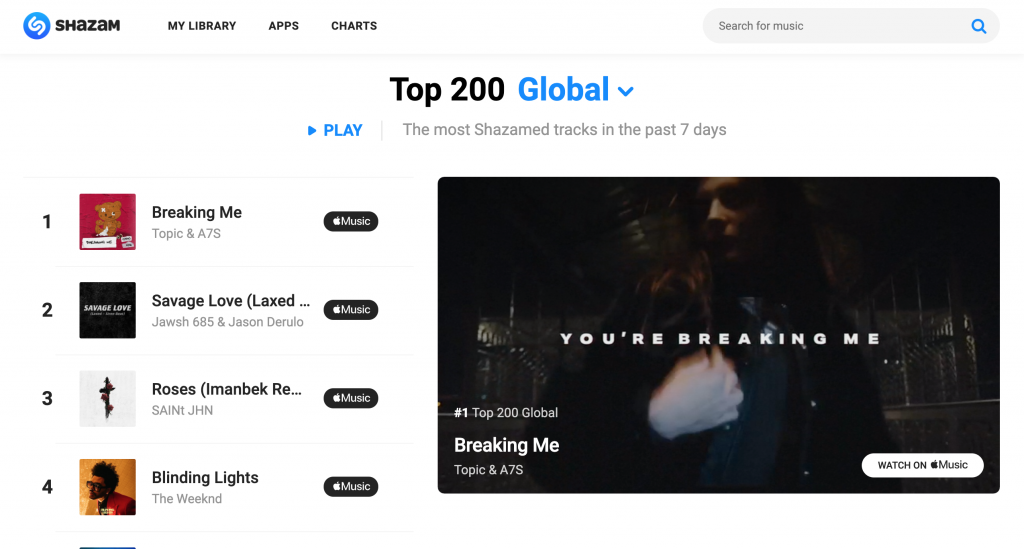 Listen to mixes by DJs you respect
This one might seem crashingly obvious, but its surprising how many DJs forget to listen to other DJ mixes. A friend put it very well – "A DJ not listening to other DJ's mixes is like a writer not reading other writer's books".
There's a whole host of reasons to listen to other DJs mixes, and at the heart of those reasons is the discovery of songs, and hearing how songs might work in ways that you didn't realise they would. There's plenty of songs that I've written off as not suitable for playing out, and then when I see a DJ use them in a club, or hear them in a mix, I realise how wrong I was!
Most DJs include a tracklisting these days, and even when they don't – there's always Shazam!
Go on a Youtube journey!
This is a fun one – kind of unpredictable, but it has taken me to some weird and wonderful places at times! Basically, its a bit like the Spotify playlists one, but a bit more random (in my experience anyway!).
When I do this, it tends to be after seeing a tweet from the Paradise Garage Bot that has caught my eye. I head over to Youtube to check it out, and then sometimes just let it play, or select something from the suggested videos. I regularly discover complete obscurities this way. Once I ended up discovering a whole sub-genre of Turkish disco edits that I had no idea existed, but that was full of incredible stuff. I haven't really understood exactly how this one works, but I enjoy following my nose around there and seeing what I stumble across! There's always a few suggestions that I don't recognise, and within a few clicks you can be in totally uncharted territory!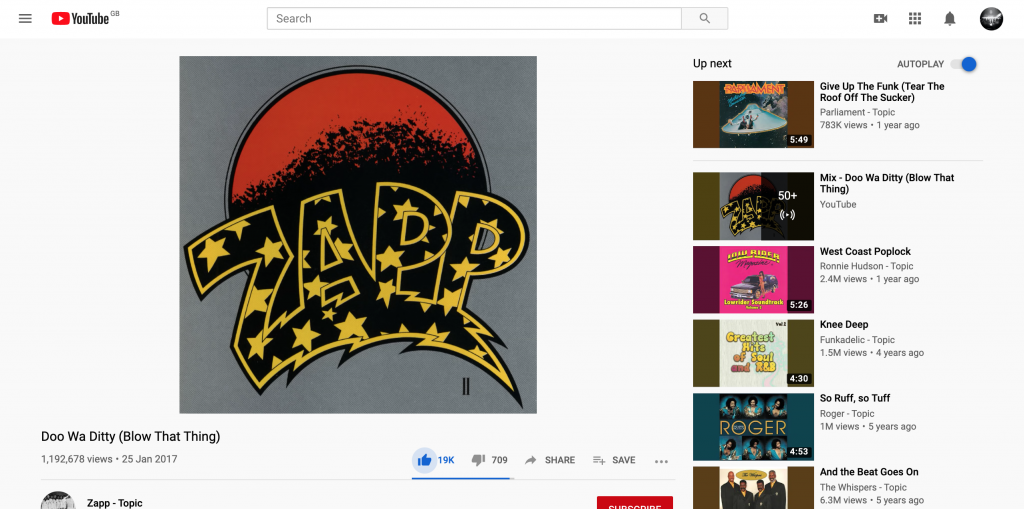 Bandcamp
This is easily my favourite music store on the internet, and a great source for underground and alternative music. They also have a simply brilliant function – you can follow other users, and receive notifications about what they buy. I follow a bunch of my favourite DJs, some friends, random people who seem to have good taste, and discover all sorts of great music this way. My collection that I've bought can be viewed here.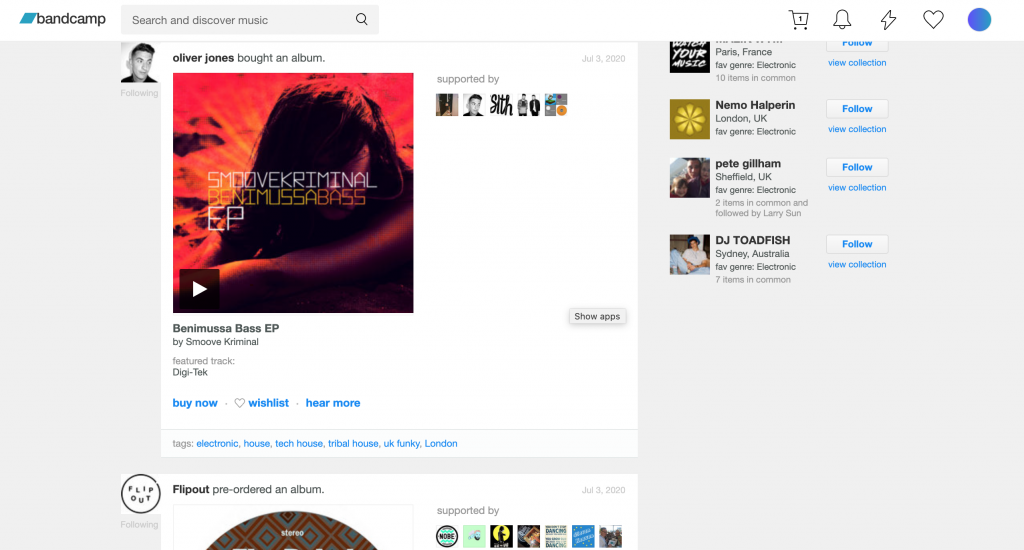 Soundcloud
To be honest, I don't use Soundcloud the way I used to in its heyday, but it still has a crazy amount of edits, remixes and bootlegs on there for free download – if you can be bothered to spend a few hours on there, you can find some really high quality stuff!
Often, tracks will require you to follow the artist on Soundcloud and/or Instagram in order to download the tracks you want, which is a small price to pay. And this will sometimes take you to this handy site – Hypeddit – where you can quickly skim through other tracks you might wish to download.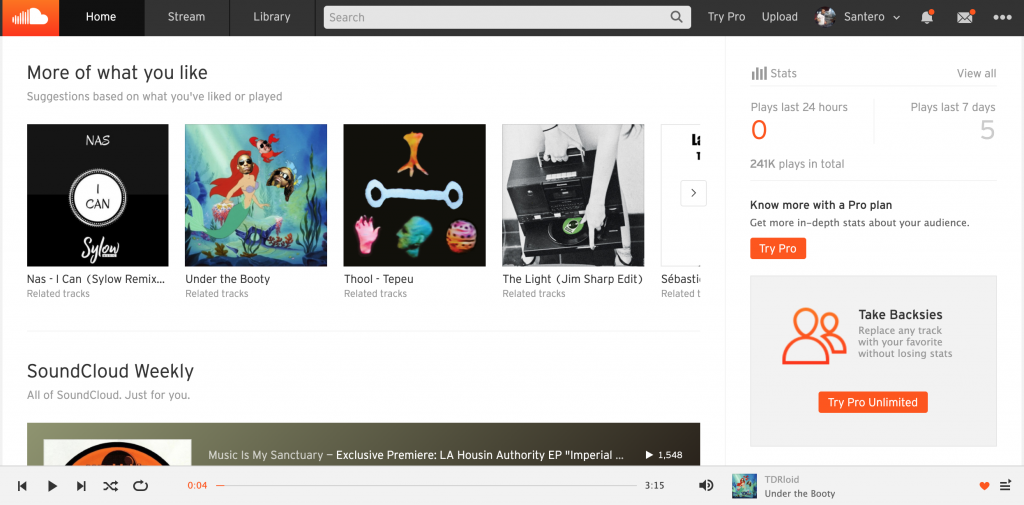 So as you can see – there's a whole host of ways to stay on top of what is popular, and to search for things that will differentiate you from the next DJ.
I hope this helps you stay on top of the current trends, and dig a little deeper for the curveballs in your sets!
Follow me on Instagram
Load More