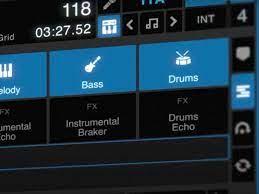 Early Opinions on Serato Stems
So we've all been using Serato's new stems feature for a couple weeks. What opinions do we have? Let's find out! But first, what are stems? In a nutshell, stems is a new feature in Serato that allows the DJ to isolate different parts of a song. When done well, it's almost like having the master multi-track recording, and you can isolate just the drums, or only the vocals. This means you can, in theory, turn any song into an instrumental, or conjure up the acapella of any track. For some DJs this is an unnecessary extravagance, but for others it's a game-changer.
Here are the thoughts of a few members of the Heavy Hits team:
Serg Sniper:
This Serato stems feature is going to allow me to mix blends on the fly when I'm live and test mash up ideas without opening my DAW.
DJ Precise:
I'm that DJ that never updates anything on their DJ laptop. From the operating system to the software, if it ain't broke, don't fix it (or update it). Therefore, I have yet to try the Serato Stems, but I will say it looks dope! Almost too good to be true. If it truly works properly this adds a whole new level to the creative aspect of your sets, especially live and on the fly. This may be the most game changing update in years. I'll likely update to latest stems update soon but in the meantime I've enjoyed watching all the content online!
DJ Papi Cruz:
I love Virtual DJ stems, being able to create Acap or Intrusmentals on the fly is a game changer for DJ. I have been able to be more creative and spontaneous with my mixing of different genre and BPMs.
So there you have it– the initial opinions on Serato Stems. I'd love to know what you think about the feature, whether it be your opinion after having tried it or just your thoughts about the possibilities it offers. Comment away!
Load More