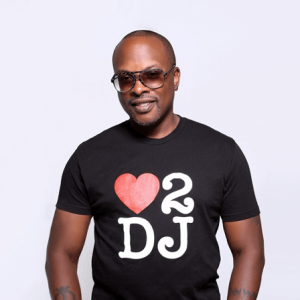 There's a LOT of DJs out there, but few have done it as long, or do it as well, as the magnificent DJ Jazzy Jeff. And today, January 22nd, is his birthday, so here's a little Heavy Hits blog tribute to the great man!
Jeff is a great example to any DJ out there – he has a career spanning multiple decades, taking in multiple facets of the music (and indeed TV!) world. He's perhaps most famous for his role as himself on The Fresh Prince of Bel-Air, as Will Smith's friend – and of course, before that he was known as his DJ.
Interestingly, they started their career at a time where the DJ was given front billing – their early records are billed DJ Jazzy Jeff & The Fresh Prince – how times changed over the years! They had instant success in the mid '80s, even winning Grammys for Parents Just Don't Understand and Summertime, as well as a string of great hits before splitting up in 1994, so that Will Smith could pursue his acting career more fully.
Jazzy Jeff first became interested in DJing at the age of 10, from attending block parties in Philadelphia, his home town. "At summer time block parties I wouldn't be the one dancing, I sat where the DJ was set up, watching him. Even when I would go to other block parties in other neighborhoods I was still infatuated with the DJ. He was the guy that played music that everyone in the neighborhood loved. You might not have known his face, you might not have known his name but he was the guy that made everyone move."
Along with fellow Philadelphian DJ Cash Money, Jeff helped popularise the "transformer scratch" (originally called this as 1980s mixer faders meant that it was easier to use the phono/line "transform" switch rather than cut on the crossfader). Anyone who watches Jazzy Jeff will see what a master he is of transforming – often an overlooked scratch amid the more flashy crabs and orbit flares, but a phenomenally versatile and funky technique when mastered. His use of this can be seen plenty in his legendary Run DMC – Peter Piper routine.
In the time since Will Smith went his own way, Jazzy Jeff maintained his own excellent career, including some brilliant productions, often jazzy, headnodding hip hop or R&B, but sometimes dipping into soulful house and disco, even recording a DJ Jazzy Jeff In The House mix for Soul Heaven. In hip hop, he was worked with many of the best names from the indie hip hop scene, as well as identifying certain superstar talents very early on…
While he maintained a relationship with Will Smith (producing a few tracks, and scratching on others), his profile definitely dipped slightly in the 2000s, even though he continued touring and producing to a high standard.
Then Red Bull 3style brought him in as a key part of their competition, introducing him to a new generation of DJs as a respected elder statesman – and in fact, I actually had to follow his unbelievable 2 hour warm up set in Paris in 2010 when I was the opening contestant in the first 3style World Final! Never have I been so nervous in my life… Since striking up this relationship with 3style, Jeff has toured relentlessly (usually with legendary freestyle rapper MC Skillz alongside), and emerged as something of a godfather figure for DJs around the world.
There are many reasons for this, and I think its worth talking about them a bit. For a start – his incredible work ethic, and devotion to staying interested in new music, while still dipping into his crates for classics and rarities from the past. A lot of DJs are one or the other – a "heritage act" trading solely in nostalgia, or obsessed with only playing the latest tunes. He could easily rest on his laurels and phone it in for the rest of his career, but he chooses not to. And his openness to the new is exemplified by the fact that he is one of the earliest adopters of Serato, catching plenty of flak from purists and luddites.
Another crucial element of why Jeff is so beloved is just his mindset and demeanour. He could easily become arrogant after the career he has had. But he is famously approachable and friendly. The first time I DJ'd with him was around 2004, alongside a certain trailblazing New York DJ who is almost as famous in the industry for being a total douchebag (as well as more or less inventing DJing as we know it today). This other DJ turned up, insulted everyone, mocked and bullied a sound guy who was simply trying to help him set up, and then was a problem for everyone who had to deal with him that night (and this wasn't a one off – he's been the same the subsequent times I've been on a bill with him).
Jeff, by contrast, turned up all smiles. Him and his tour manager showed me a better way to set up my needles to avoid them skipping, then gave me props (and a pull up!) on my first track selection (DITC – Day One in case you wondered). He played a set that blew everyone in the building away, then stuck around signing autographs after the show ended. This has been the same at every other time I've played with him, or indeed bumped into him out and about (as happened in a sneaker store in London 6 months after the 3style final!). He's genuinely an example to any DJ about how to behave around other DJs, promoters, sound techs and fans. Stay humble, work hard, be nice to people. As he says, "When you are blessed with a gift, it is your obligation to share it, it's your obligation to take care of it, it's your obligation to pay it forward."
This wholesome attitude, and his devotion to the craft of DJing, has found a new outlet in recent years – his Playlist Retreat. In 2015 he launched an annual retreat where he invited progressive musical artists from all over the world to join him and explore inspiration and collaboration.
So for all these reasons and more, we should celebrate the life and career of one of the greatest to ever do it. Happy Birthday DJ Jazzy Jeff!
Load More