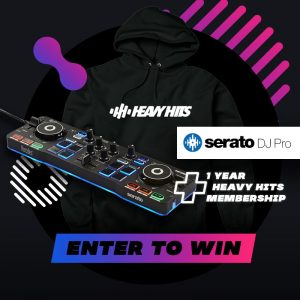 All over the world, people are being asked to spend a lot more time at home, and we are all looking for ways to keep boredom at bay – well, Heavy Hits has your back, and for good measure you have the chance to win over $500 worth of prizes!
Heavy Hits brings you the #HHSTAYHOMECHALLENGE!
Keep on top of your game and show your creativity by filming a short routine (should we call it a quaroutine?) following this format:
– Film and upload a 30-60 second routine using at least two (2) tracks from the playlist below. Want to add your own flair? No worries, you're more than welcome to add your own tracks and samples too.
– Upload your routine as an Instagram post by 11:59pm (PST) on March 26th, 2020. Be sure to tag and follow @heavyhitspool and use the hashtags #hhstayhomechallenge & #heavyhitspool in your caption
Prizes as follows:
Grand Prize
– 1 Year Heavy Hits Membership ($249 value)
– Hercules DJControl Starlight Controller ($89 value)
– Serato Pro License ($129 value)
– Heavy Hits Hoodie ($49 value)
2nd Place
– 3 Month Heavy Hits Membership ($75 Value)
3rd Place
– 1 Month Heavy Hits Membership ($24.95 Value)
Judging & Additional Terms
A panel of Heavy Hits judges will score the entries and announce the winners via Instagram on March 27th, 2020. The contest is open to everyone (both members and non-members). In the event of a tie, we'll open it up to a poll on Instagram to decide the Grand Prize winner. Have a question? Feel free to DM us on any one of our socials. Good luck!
Load More