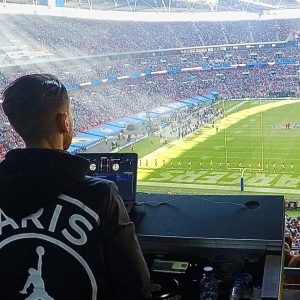 How To Be A Sports DJ – with DJ TP
With Super Bowl weekend upon us, I sat down for a chat with DJ TP, to ask him about how exactly a sports DJ goes about their job. Here's what he had to say…
Tell us a bit about your career to date
I started out in the late 90s before my teens. At the age of 16 had my first club residency in London's west end, and a weekly show on pirate radio. The same year I won the now defunct DMC Young UK DJ of the year Championships. Today I am fortunate to rock parties globally, working with some of the biggest brands, and on some of the biggest stages in the world, and residences in my hometown of London.

How did you get linked with the NFL games, and were you a fan before being one of their guest DJs in London?
Since 2015 I've been a resident for the England Rugby team. Over time, I gained relevant experience & key contacts in the sporting world. It was a natural progression to venture into other sporting industries, such as the NFL, MLB, the FA and UEFA. As with all DJs, not having an ego and trying your best to make people happy always helps! I have always followed the NFL, so it was great to play some part in their events, but will say I have become more of a fan since doing so.
How has your experience with this gig, and sports events in general been – what have you learnt from your gigs so far?
There are essentially two types of DJ in a sporting environment. The 'reactive DJ' has a really tough job, and will be responsible for player stings, music during breaks of play etc, working around things like VT and interviews etc. You will have in-ears or a speaker linked to the main production desk, and have to be prepared to react instantly to any instructions given, so your crates need to be organised and well-stocked. The other type of DJ would be a 'mix DJ' playing high energy, and topical mixes during longer breaks such as half time, or player warms ups for example, very similar to what you'd do as a guest mix on radio, something I also gained experience of in recent years guesting for the BBC, Kiss FM and Capital Xtra in London. For both types of "in-game" DJ, you have to be prepared with clean edits, tracks relevant to the teams, or sometimes even players. I have done more of the latter style, but hope to do more reactive DJing in future. The most important thing to remember is that you are a small part of a huge over-all production, so communication and listening to instructions is key. There is no room for egos or complacency.
What does a game day look like for you? What are your duties before, during and after the game?
Sound checking nice and early (for the bigger events this sometimes takes place 1 or 2 days before match-day), linking up with the main production team/show caller to see what their requirements are. The production companies involved are incredibly well organised & will provide a timeline of events for the day, and in most cases a point of contact that will be by your side for the duration of the event to assist. The duties for a DJ vary, and in some cases I have been responsible for playing a fan zone outside the ground, running over to the bowl itself and then playing during player warm ups, half time, and post match as fans exit. You need a comfy pair of sneakers on days like that!
What's been your favourite moment at a stadium event as a DJ?
The first time I played to a sell out crowd of 84,000 at Wembley was a bit of a shock to the system. I had previously played an exhibition match to 20,000 but the stadium felt so different being full and with that level of production on board. It was during a Titans v Chargers game, the booth was right up in 'the void' next to the jumbo screen – of any stadium I've played in before or since, this has the most incredible view. I mixed the player warm ups & half-time sets, spinning everything from Queen and Ed Sheeran, to Kanye and Lil Wayne. I am not a famous DJ or well know producer, who are the regular 'go-to' for such huge events, but I did work hard for the opportunity over a number of years and really appreciated something so special, and the platform it has given me since. I also got to meet the main reactive DJs who are hugely experienced (playing the super bowl annually) and do an amazing job. I am hoping to learn more from them in future.

What have you learnt from DJing at NFL and other sports events? How does it link to your experience in clubs.
Picking the right track to get a huge crowd chanting, is magic. In the same way dropping a "Giggs" track in his native south east London gets a huge reaction. As the DJ, you play a key part in generating an atmosphere. If your set gets the crowd going, they in turn can have a direct impact on the performance of the athletes. You can even play tracks to dampen the spirits of the opposition. It does help to have knowledge of the teams playing, their rivalry, or even tracks that you know the players like. With the Jacksonville Jaguars, we get a brief, and it was crazy to get fist pumps from the players in the tunnel when I dropped Travis Scott 'Highest in the Room'. The team lost badly, but still, they were hyped at that moment before the game, haha!
How do you cope with nerves when there is such a huge crowd?
Before anything I'd say being organised, getting there early and having total faith in your set up! I'm a Serato DJ and make the necessary checks to ensure everything is cool. Like any daunting gig (hell even weddings can be scary), once you've done it, you can go back with less nerves. Lastly, remember to have fun with it & don't over complicate things. In some cases, the scale is so big you cannot fully comprehend it which is perfect! You just turn up your both monitor, and rock-out just like you would at home.

Apart from NFL games, what have been the highlights of your DJ career, and what goals do you have for 2020?
I have something really special happening this summer, but I am not yet allowed to officially share the news! Its something sports linked and could well be the highlight so far. I am really excited for it.
I am really lucky to have DJ'd & curated for some of the biggest brands all over the World, the likes of Google, Tik Tok, Facebook etc in the last year alone. I'm most at home in the club (playing mainly hip hop, and sometimes house), but I also play a variety of special events linked to my background in the events industry. This new years, I was responsible for playing a star-studded NYE dinner under the backdrop of the Burj Al Arab in Dubai where I counted in the new decade. In terms of sports, the experience I have gained has enabled me to be a safe set of hands for some of the biggest stadium events in the UK and I'm hoping to do this internationally later this year.
For my own highlight to date, I grew up a huge fan of UK Garage, so seeing Craig David sing 'Rewind' at the first ever MLB game in Europe, and jumping on the decks after him, playing to a crowd of 60,000 Red Sox & Yankee's fans was quite a moment. I also got to meet him before the game and he was a straight up gentleman.
In 2020 I want to carry on in the same direction, and would love the chance of being a resident for my team, Arsenal FC, in the same way RedBull 3Style Champ 'J Espinosa' is resident for the Raiders (now of Las Vegas!), or '4 Korners' is for the NBA Champions, the Toronto Raptors. I am a life long season ticket holder at Arsenal and have followed them all over the World through the highs and lows. As a kid I used to make mixtapes in the lead up to big games and play them all week before the match on my cassette player, which I suppose was my gateway to DJing. It's a dream to create an atmosphere at the Emirates. I've also DJ'd and curated for the England Soccer team and hope to do more for them, and also would love to work with FIFA & UEFA.

Anything else you want to let us know about?
Music is an incredibly powerful tool for sport. I have seen it directly increase participation, giving the young a chance to learn new skills, keeping them on the right path, especially in inner-city London. I am proud to have worked with England Rugby's 'o2 Touch initiative', where I helped create a series of mixes designed to be played during a touch rugby session (you can hear one below). Using current hits and mash ups gave the participants a point of relate to a slightly less fashionable sport they may otherwise have over-looked. The sport has grown significantly, and I even got the chance to give the England Roses team a DJ lesson along the way. I believe the UK is at-last seeing how to incorporate DJs & that music can impact the overall experience for fans and players, on all levels of the game. I hope to play a part in this during the next decade both in DJ/curating, and developing new formats.
Check DJ TP out here
Heavy Hits
DJ TP's Stadium Anthems
Load More