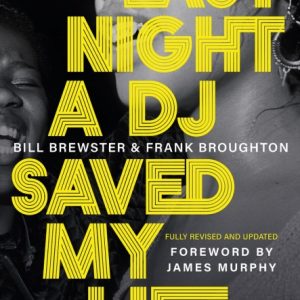 Last Night a DJ Saved My Life
In 1999, when I first read Last Night a DJ Saved My Life, Bill Brewster and Frank Broughton's history of DJ'ing, I was, like many readers, enthralled by the club charts provided in the back of the book. They provided 11 song lists, each representative of a certain club or scene. My only complaint at the time was that none of them were centered around hip hop. There were plenty of house and disco lists, and one that included the most famous Northern Soul tracks, but not one offered any insight into what was going on in the world of hip hop.
Last week, I received my copy of the 2022 update of the book. They've made many changes, including rewriting some sections and adding some brand new chapters. It's longer, and even more thorough, than before. They also expanded the song charts in the appendix, adding 10 more, for a total of 21 carefully curated lists. I was quite certain I'd see at least one hip hop list, but to my surprise: still none. Other than this somewhat significant, I believe, oversight, the book is fabulous. It's informative, but more importantly, it's inspiring. Whether you've never heard of DJ'ing, or if you are a seasoned pro with 40 or more years behind the decks under your belt, you will walk away from this book with a renewed passion for DJ'ing. You may also leave with a wistful feeling, wishing you could go back and experience some of the moments described, and wonder if the future of DJ'ing is as bright as its past. Regardless of what you feel, I guarantee you will feel something.
That said, I'm more than a little disappointed in their lack of some hip hop charts, so I spent the past couple days pulling out records and compiling a couple lists of my own. Here is the first one that I've completed. Consider this a chart representative of the hip hop scene before it was known as the hip hop scene. These are the records DJs were spinning double copies of, back and forth, to create looped beats for MCs and breakdancers. These are the pre-1980 breaks that form the foundation of what became known in the '80s as hip hop. This is…
The '70s Hip Hop Park Jam 100
20th Century Steel Band – Heaven and Hell is on Earth
7th Wonder – Daisy Lady
Aerosmith – Walk This Way
All the People – Cramp Your Style
B.W. Souls – Marvins Groove
Babe Ruth – The Mexican
Baby Huey – Listen to Me
Banbarra – Shack Up
The Bar-Kays – Let's Have Some Fun
The Blackbyrds – Unfinished Business
Bo Diddley – Hit or Miss
Bob James – Take Me to the Mardi Gras
Boobie Knight & The Universal Lady – The Lovomaniacs (Sex)
Brooklyn Dreams – Music, Harmony and Rhythm
The Brothers Johnson – Ain't We Funkin' Now
Can – Vitamin C
Chester Randle's Soul Sender's – Soul Brother's Testify
Chic – Good Times
Chicago Gangsters – Gangster Boogie
The Chubukos – House of Rising Funk
Coke Escovedo – I Wouldn't Change a Thing
Commodores – The Assembly Line
Cymande – Bra
D.C. LaRue – Indiscreet
Dennis Coffey and the Detroit Guitar Band – Scorpio
Dexter Wansel – Theme from the Planets
Donald Byrd – Change (Makes You Want to Hustle)
Dyke & the Blazers – Let a Woman be a Woman and a Man Be a Man
Dynamic Corvettes – Funky Music is the Thing
Eastside Connection – Frisco Disco
Esther Williams – Last Night Changed it All (I Really Had a Ball)
Fat Larry's Band – Down on the Avenue
Fausto Papetti – Love's Theme
First Choice – Love Thang
Foster Sylvers – Misdemeanor
Freddie Perren – 2 Pigs and a Hog
Freedom – Get Up and Dance
Funk Inc. – Kool is Back
Gaz – Sing Sing
The Grass Roots – You and Love Are the Same
The Headhunters – God Make Me Funky
Herman Kelly and Life – Dance to the Drummer's Beat
The Honey Drippers – Impeach the President
In Search Of… Orchestra – Phenomena Theme
Incredible Bongo Band – Apache
Incredible Bongo Band – Bongo Rock
Isaac Hayes – Breakthrough
Jackie Robinson – Pussyfooter
The Jackson Five – It's Great to be Here
James Brown – Give it Up or Turnit a Loose
James Brown – The Funky Drummer
James Brown – Funky President
Jimmy "Bo" Horne – Get Happy
The Jimmy Castor Bunch – It's Just Begun
Joe Tex – Papa Was, Too
John Davis and the Monster Orchestra – I Can't Stop
Johnny "Hammond" Smith – Shifting Gears
Johnny Jenkins – I Walk on Gilded Splinters
Johnny Pate – Shaft in Africa (Addis)
Juice – Catch a Groove
The Kay-Gees – I Believe in Music
Kid Dynamite – Uphill Peace of Mind
Kool & the Gang – N.T.
Lafayette Afro-Rock Band – Hihache
Lamont Dozier – Take Off Your Make-Up
Lee Dorsey – Get Out of My Life, Woman
Lowell Fulsom – Tramp
The Magic Disco Machine – Scratchin'
Mahavishnu Orchestra / John Mclaughlin – Planetary Citizen
Manzel – Space Funk
Marvin Gaye – "T" Plays it Cool
Melvin Bliss – Synthetic Substitution
The Meters – Handclapping Song
Miami – Chicken Yellow
The Mohawks – The Champ
Monk Higgins – One Man Band (Plays All Alone)
Mountain – Long Red
The Olympic Runners – Put the Music Where Your Mouth Is
Orchestra Internationale – Chella Lla'
Please – Sing a Simple Song
Pleasure – Joyous
La Pregunta – Shangri La
Ralph McDonald – Jam on the Groove
Rhythm Heritage – Theme from S.W.A.T.
Rick James – Fire It Up
Roy Ayers Ubiquity – Running Away
Rufus Thomas – Do the Funky Penguin
Sir Joe Quarterman and Free Soul – I'm Gonna Get You
The Soul Searchers – Ashley's Roachclip
Stanley Turrentine with Milt Jackson – Sister Sanctified
Thin Lizzy – Johnny the Fox Meets Jimmy the Weed
The Village Callers – Hector
The Whole Darn Family – Seven Minutes of Funk
Wilbur Bascomb and the Zodiac – Just a Groove in "G"
The Wild Magnolias – (Somebody Got) Soul, Soul, Soul
Wilson Pickett – Get Me Back on Time
The Winstons – Amen Brother
Yellow Sunshine – Yellow Sunshine
Z.Z. Hill – I Think I'd Do It
Load More