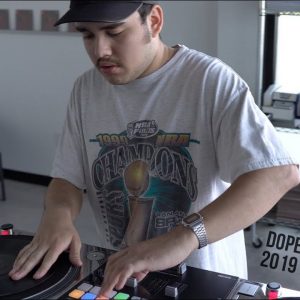 No matter how skilled he may be, a DJ is nothing without a clever name, and near the top of the list of cleverly named DJs one must rank David Lopez, aka DJ Dopez. Don't we all wish we had a name with such a built-in branding opportunity, and the awareness to utilize it?
Of course, DJ Dopez has dope skills to back up the name. He's demonstrated those skills in numerous battles. Dopez was the Austin Regional DMC champ in 2015, and again in 2019, when he finished 4th at the U.S. Finals. In Austin, he's part of a thriving turntablist scene, and is a regular at the city's monthly scratch meetup, hosted by Scratch Theory of Texas.
He started scratching about 12 years ago, when he was 16. He'd been focused on mixing house music until he was exposed to turntablism, at which point he knew it was time to switch his focus to scratching.
His advice for becoming a great scratch DJ? Practice, of course, however he added a clever twist to that age-old advice. He used to spend 3+ hours a day playing video games, but channeled all that time into practicing scratching instead. He turned video game time into turntable time, which, when he was first learning, meant he spent 3 to 5 hours each and every day practicing on his turntables. He doesn't spend that much time doing it now, and sometimes skips a day, but most days he still spends at least an hour behind the decks.
He mentioned DJ ie.Merge's 2004 DMC set, which earned him the world title that year, as one aspiring DJs should watch. According to Dopez, ie.Merge introduced an aggressive cutting style over electronic beats that he admires. He named DJ Craze as his all-time favorite turntablist, and also mentioned DJ Chris Karns as one of the all-time greats.
Despite digging the aggressiveness of ie.Merge, Dopez listed a couple slower beats on the 2004 Toad Style battle record Get 'Em as favorites. The beats clock in at around 92 BPM, but sound slower because of the beat layout, and are perfect for the sort of quick, intricate cuts Dopez specializes in. He also recommends checking out Toad Style's mixtape, Switch Blade Sermons, for a clinic on cutting over a slow beat.
When it comes to choosing battle records, he's especially partial to D-Styles, who he says has a really good ear for samples. Gag Ball Breaks and Black Market Snuff Breaks, both from The Wax Fondler, rate high on his list of great battle records, as does DJ Flare's Hee-Haw Breaks, primarily for the sheer amount of samples it offers. Other favorites include Ricci Rucker's Utility Phonograph Record and DJ Hertz' Grasshopper Breaks, volume 1.
And for DJs looking for the best incarnation of the classic "aaaah" sample from Fab Five Freddy, Dopez swears by the version on Super Seal records. The warmth of the sample on those Dirt Style records is superior to the sound of the same sample on more recent battle records, which give the sample an unwanted metallic tone.
Here's a quick video of him cutting up that aaaah:
Besides DJ'ing, Dopez is a fan of vintage clothing, especially t-shirts. He used to work at a thrift shop, and now scours local thrift shops, looking for t-shirts to sell in his eBay shop. If you want to check out his wares, you can find it here.
And what about when he isn't DJ'ing or thrifting? He's at home, spending time with his cat, Basil.
If you're in the Austin area, you can hear Dopez spin every Thursday night at Barbarella, where he's mixing music for the club's patrons. If you want to hear him doing a more scratch-focused set, you can find him one Saturday a month at Lo-Fi Vintage, where you can also buy some sweet vintage tees.
Here's another taste of his cutting to enjoy before you go.
Load More