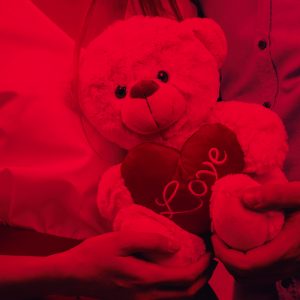 A few years ago, I read something that stuck with me. Emynd, badass DJ/producer out of Philadelphia, made a comment along the lines of how his job as a DJ was to provide the soundtrack for people to hook up to. I can't remember if it was a specific event or genre he meant, or whatever, but anyway… It has stayed with me ever since, because the truth of the matter is that a LOT of the people on any given dancefloor are looking for that special someone. If a lot of people are hooking up at the end of your sets, you are probably doing something right.
Things are obviously a little different right now – but that doesn't mean we can't set the tone for some domestic loving with all the couples that will be having valentines dates at home this year! And maybe we can even help a few flatmates fall in love!
As always, the Heavy Hits pool has your back – we've got this phenomenal Valentine's Day Lovers playlist to get people all touchy-feely, and maybe even a bit smoochy. Timeless classics from yesteryear, modern slow-jams, and lottttttts of baby-makin' music!
But of course, not everybody likes this time of year. And Heavy Hits appreciates that some DJs just like to zag when everyone else zigs. Maybe what you want in your mixes, what you want on your streams, is anti-Valentine's music. Ask, and ye shall receive! A collection of classics about cheaters, breakups, gold diggers and betrayal – perfect if you want to go against the grain for Valentine's this year! Check that playlist out here.
One of the best features of Heavy Hits is the brilliant curated playlists, with music to cater for any occasion – go check the rest of our amazing playlists out here, and make sure you have the advantage over the DJs out there who don't have access to this awesome resource!
And make sure you check out our amazing Instagram page here and Facebook page here, and if you're on Twitter give us a follow there too!
Load More