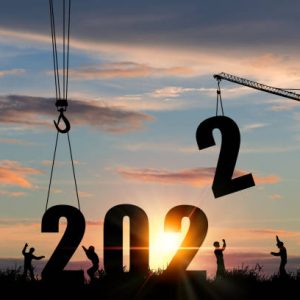 Unbelievably, we're halfway through 2022. Even typing that year feels a bit surreal. We used to imagine partying like it was 1999, and vowing to meet up in the year 2000, when we'd be fully grown, and suddenly we're 22 years beyond that? Inconceivable! Nonetheless, here we are. And while in many ways the hot music of 2022 feels like it would be right at home on a list of the top hits of 1992, even if the styles of music haven't changed, the songs have, and Heavy Hits is, as always, on top of it.
Let's recap the hottest songs of the year, so far, with our Heavy Hits playlists.
The trend of sloooowed down tempos continues for hip hop artists in 2022. BPMs in the 70s and 80s, once unthinkable for the dance floor, are now the norm, but producers are using syncopation and off-kilter beats to inject motion and energy into even the most lethargic of tempos. Both Nicki Minaj and Gunna clock in with songs played at a dirge-like 60 BPM, a speed once reserved for only the slowest of slow jams, yet both send dance floors into an energetic frenzy. Such is the state of hip hop in the '20s.
Well, now we see where all the uptempo hip hop has gone. It's masquerading as pop music, which makes perfect sense, as hip hop long ago became the new pop. Bump that BPM up into the 120s and your track will leap from the hip hop charts to the pop charts. No more Huey Lewis or Bon Jovi in 2022. Search far and wide, but you will find no guitars in these songs. It's pure digital bliss every step of the way, quantized to the nth degree for your beat-matching pleasure. And don't be fooled– this is not a playlist of Drake's greatest hits, he's just that hot right now, with an amazing seven songs on the chart! That said, for my money the real winner here is Jiggle Jiggle, a song that would be equally at home on the hip hop chart, or on any Music for Robots chart.
2022 So Far – Electronic / Dance
For all you club DJs out there, here's what you've been waiting for. This invaluable list includes all the biggest bangers and floor-packers released thus far in 2022. That Middle Eastern track you've been hearing but couldn't find? It's from DJ Snake, and it's here. So is the crowd favorite "Liquor Store" by Joel Corry. Load up the tracks on this playlist and you're good to go.
2022 So Far – Reggae / Dancehall
Who's playing reggae in 2022? If your answer is "I am!" then you need to check out this playlist. It has every one of the big hits you need for your next jam. And if you aren't a reggae DJ, and still think dancehall DJs are spinning Bob Marley, you are long overdue for a refresher course in this music. Listen to Vroom and tell me that won't fit into your pop or house set. Can you really say you can't mix this hot Shaggy track into your hip hop set? This ain't grandpa's reggae music!
Latin music has exploded in the past decade in a way that no other kind of music has. Long gone are the days when DJs eschewed this entire segment of music, and only begrudgingly snuck one Latin song into the mix at the end of the night to appease a handful of requests. In 2022, Latin music is EVERYWHERE, and needs to be a part of nearly every DJs set. Lucky for you, Heavy Hits has you covered, with tracks that will fit into every format. Daddy Yankee will mix in nicely with a club-tempo house set, while Dimelo Flow has you hip hop DJs covered. And if you're playing primarily Latin music, the entire list is banger after banger, guaranteed to keep your audience happy for the entire evening.
If you're in the U.K., perhaps you turned your nose up at the hip hop chart above, and muttered something about that being hip hop for those Yanks across the pond. Fear not, for here at Heavy Hits we have you covered. We're worldwide, with DJs from all over the planet of Earth working tirelessly to compile playlists of the hottest tracks everywhere. That said, I recommend hip hop DJs in America and elsewhere take a long listen to this playlist. While the artists and songs may not be familiar, the songs are all winners, and you owe it to your audiences to introduce them to some of these sounds. Sneak a Knucks track into the mix and see how your crowd reacts. And if they don't like it? Play it again. Play it 20 times in a row if you have to– eventually they will fall into line!
Let's move on from the U.K. to… everywhere else! As I wrote above, Heavy Hits employs DJs and writers from all over the globe, and together we've compiled one final playlist comprised of the best of the best from all over this wonderful world in which we live. Every track is a standout, but let me point out two that you can start with, as you peruse the entire list: "Degaine" from French-Malian singer Aya Nakamura and "Balader" from Algerian rapper Soolking. If you haven't yet began incorporating international tracks into your playlists, here's your chance to start.
And that's 2022… so far!
Load More