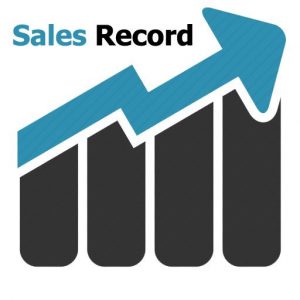 The State of Hip Hop Vinyl
Last year I wrote about my experience selling hip hop albums at the Austin Record Convention. Vinyl heads know, but for those that don't the ARC is the largest vinyl show in the U.S., and second-largest in the world. Collectors and vendors come to Austin from all over the world each May to buy and sell vinyl records and music memorabilia.
Last year, I sold a handful of records– enough to justify returning in 2023– but it wasn't anything to write home about. I did, however, write an article for Heavy Hits about it, and received a lot of feedback from readers. Surprisingly, to me at least, was that the most frequent statement was along the lines of "thanks for sharing the prices!"
Vinyl dealers know that one of the hardest things to do is to price your inventory. There are various methods for doing so, but none is an exact science. You can see what other vendors are charging on Discogs or eBay, but there is often a wide range of asking prices. You can also look for completed sales, but those tend to be an inaccurate representation of what is being paid for a given record. I've been in the industry for a long time, and can say with certainty that the highest prices paid for records seldom happens on a site, so if you are pricing inexpensive records, then the log of recently completed sales may be fairly accurate, but for rare and pricey records, it's not.
Whenever I list a sought after or expensive record, I receive many version of the same email. "Can I pay you directly off-site?" Buyers want to avoid fees. And so do sellers. Many times I've inquired about the condition of a record and am told by the seller that I can get a lower price if I send funds directly, and bypass Discogs, eBay, etc. The ethics of this are up to you to decide, but the upshot is that while a record may have never sold for more than, say, $200 on Discogs, it's very likely to have sold for far more in a private transaction, so price accordingly.
In any event, at this year's show, hip hop vinyl was selling like hotcakes. It seems everyone wants old rap albums. Rap 12″ singles, not so much, but the original press of a classic rap album is in high demand in 2023. Case in point: at last year's show I sold 15 records for a total of $721.00. Not bad, but not great. This year? I sold 108 albums for a total of $6,100.00. That's a huge difference, and it had nothing to do with my inventory. I brought the exact same crates this year as last year, minus a few of the 15 albums I sold last year that I wasn't able to restock. Why is hip hop so hot right now? Who knows? Ask Jacobim Mugatu, but don't ask me. All I know is that it is.
Finally, like last year, here is a list of what I sold, including my asking price and the actual selling price. This is some priceless, real-world data for anyone else who sells records, because this represents what an actual human paid in actual money for a record.
Every record sold was an original press unless otherwise noted. All were VG+ or better unless noted.
3rd Bass The Cactus Al/bum 40.00
Afrika Bambaataa & SoulSonic Force Planet Rock – The Album 95.00
Audio Two What More Can I Say? 35.00
Beastie Boys Paul's Boutique 240.00
Beastie Boys Check Your Head 225.00
Beastie Boys To the 5 Boroughs [reissue] 35.00
Beastie Boys The Mix-Up 85.00
Beastie Boys Licensed to Ill 50.00
Biz Markie The Biz Never Sleeps 80.00
Boogie Down Productions Criminal Minded 65.00
Boogie Down Productions Man and His Music 25.00
Boogie Down Productions By All Means Necessary 25.00
Boogie Down Productions Ghetto Music: The Blueprint of Hip Hop 25.00
Brand Nubian One for All 80.00
Cypress Hill Cypress Hill 225.00
D.O.C., The No One Can Do It Better 75.00
Dana Dane Dana Dane With Fame 20.00
Davy D Davy's Ride 5.00
De La Soul 3 Feet High and Rising 200.00
De La Soul De La Soul is Dead 200.00
De La Soul Buhloone Mindstate 200.00
DJ Jazzy Jeff & the Fresh Prince Rock the House 15.00
DJ Jazzy Jeff & the Fresh Prince He's the DJ, I'm the Rapper 15.00
DJ Jazzy Jeff & the Fresh Prince And in This Corner… 17.00
DJ Shadow Preemptive Strike 50.00
Doug E. Fresh & the Get Fresh Crew Oh, My God! 18.00
Doug E. Fresh & the Get Fresh Crew The World's Greatest Entertainer 15.00
Downtown Science Downtown Science 95.00
Dr. Dre The Chronic 250.00
Eazy-E Eazy-Duz-It 100.00
Egyptian Lover, The On the Nile 50.00
EPMD Strictly Business 50.00
Eric B. & Rakim Follow the Leader 45.00
Eric B. & Rakim Let the Rhythm Hit 'Em 60.00
Fat Boys Fat Boys 10.00
Fat Boys The Fat Boys are Back 10.00
Fugees The Score 65.00
Gang Starr Step in the Arena 70.00
Gang Starr Hard to Earn 250.00
Grandmaster Flash & the Furious Five Greatest Messages 10.00
Grandmaster Flash & the Furious Five On the Strength 5.00
Guru Jazzmatazz Volume 1 100.00
Handsome Boy Modeling School So… How's Your Girl? 110.00
Ice T Rhyme Pays 35.00
Ice T Power 30.00
Jonzun Crew Lost in Space 9.00
Kanye West The College Dropout 30.00
Kanye West Late Registration 30.00
King Tech – M.C. Sway Flynamic Force 115.00
King Tee Act a Fool 50.00
Kool G Rap & DJ Polo Road to the Riches 50.00
Kool G Rap & DJ Polo Wanted Dead or Alive 50.00
Kool Moe Dee Kool Moe Dee 35.00
Kool Moe Dee How Ya Like Me Now 15.00
Kurtis Blow Kurtis Blow 10.00
Kurtis Blow Kingdom Blow 5.00
L.L. Cool J Radio 50.00
L.L. Cool J Bigger and Deffer 25.00
L.L. Cool J Walking With a Panther 60.00
L.L. Cool J Mama Said Knock You Out 75.00
L'Trimm Grab It! 10.00
Lakim Shabazz Pure Righteousness 25.00
Low Profile We're In This Together 75.00
Marley Marl In Control, Volume 1 35.00
Masters of Ceremony Dynamite 15.00
MC Hammer Let's Get It Started 10.00
MC Hammer Please Hammer Don't Hurt 'Em 20.00
MC Shy-D Got to Be Tough 20.00
MC Shy-D Comin' Correct in '88 20.00
Notorious B.I.G., The Born Again 20.00
Public Enemy Yo! Bum Rush the Show 45.00
Public Enemy Fear of a Black Planet 80.00
Public Enemy Apocalypse 91… The Enemy Strikes Back 75.00
Public Enemy Greatest Misses 40.00
Redman Whut? Thee Album 90.00
Rob Base & DJ E-Z Rock It Takes Two 10.00
Rodney O Joe Cooley Me and Joe [VG-] 50.00
Run-D.M.C. Run-D.M.C. 30.00
Run-D.M.C. King of Rock 27.00
Run-D.M.C. Raising Hell 22.00
Run-D.M.C. Together Forever 30.00
Run-D.M.C. Down with the King 65.00
Salt-N-Pepa Hot Cool and Vicious [G+] 10.00
Sir Mix-a-Lot Swass 42.00
Slick Rick The Great Adventures of Slick Rick 50.00
Spoonie Gee The Godfather of Rap 10.00
Stetsasonic On Fire 25.00
Super Lover Cee & Casanova Rud Girls I Got 'Em Locked 20.00
Tone Loc Loc'ed After Dark 25.00
Too Short Born to Mack 65.00
Tribe Called Quest, A People's Instinctive Travels & the Paths of Rhythm 180.00
Tribe Called Quest, A Midnight Marauders 125.00
Tribe Called Quest, A Beats, Rhymes, and Life 112.00
Ultramagnetic MC's Critical Beatdown 150.00
Ultramagnetic MC's The Basement Tapes 10.00
UTFO UTFO 15.00
Various Artists Wild Style Soundtrack 30.00
Various Artists Rap 1 9.00
Various Artists Rap 2 9.00
Various Artists Krush Groove Soundtrack 5.00
Various Artists Mr. Magic's Rap Attack 10.00
Various Artists The Rap Pack 10.00
Various Artists Rhyme Syndicate Comin' Through 10.00
Various Artists Battle of the DJ's 5.00
Whodini Escape 45.00
Wu-Tang Clan, The Enter the Wu-Tang (36 Chambers) 125.00
X-Clan To the East Blackwards 65.00
Young M.C. Stone Cold Rhymin' [G] 10.00
Load More