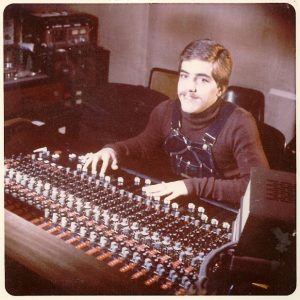 Walter Gibbons and the First Ever 12″ Single
A name that is not often mentioned when discussing the birth of modern DJ'ing is Walter Gibbons, though he made two important contributions to the world of DJ'ing: the 12″ single, and looping breaks live with two copies of a record.
Gibbons' re-edit of Double Exposure's disco hit "Ten Percent" was the first 12″ single to be released commercially, and his creation of that record paved the way for me, you, and every other DJ who has since followed in his footsteps. He built the blueprint for the soon-to-be ubiquitous disco remix, based on something he'd been doing live in clubs since 1972: extending a song's beat using two copies of the same record, keeping flawless timing while doing so. Other DJs have said that until they watched him do it, they assumed he was playing a record featuring a professionally made extended mix.
If you think what he was doing sounds similar to what hip hop DJs began doing later, you're right. The accepted story of the birth of hip hop is that it began on August 11, 1973, when Kool DJ Herc performed at his sister's back to school party at 1520 Sedgwick Avenue, in the Bronx, but the history is all very hazy. We know that a DJ known as Grandmaster Flowers had been playing records at parks and other outdoor venues in the 1960s, and had established enough of a name for himself that James Brown chose Flowers as his opening act for a show at Yankee Stadium, in the Bronx, in 1969. That was perhaps the first time a DJ played the role of opening act for a band, and if not the first time, it was certainly a rarity in 1969.
It's very likely that Flowers' performance influenced the style of the Bronx DJs, but that is mere speculation. We do know that Herc was 18 years old at the time of his 1973 party, and it was one of his earliest public performances. It's said that he debuted his "Merry-Go-Round" style of mixing that night, in which he mixed from the break portion of a James Brown record, "Give it Up or Turnit a Loose" into "Bongo Rock" (or maybe "Apache") from the Incredible Bongo Band, and from there into the Babe Ruth anthem, "The Mexican." At some future point, he started going back and forth between two copies of the same record to extend the break, though reportedly he did so without keeping the rhythm. It was more of a haphazard needle drop than a smooth segue. Grandmaster Flash is credited with perfecting the on-beat segue that extended a break using two copies of the same record, and staying on-beat as he did so, but we have no record of him doing that until 1977. Flash claims he was doing it in 1976, but no one but Walter Gibbons was doing it between 1972 and 1976.
Did Kool Herc, or any other Bronx DJs hear Gibbons mixing? Maybe, maybe not. Disco was huge, and many of the Bronx DJs went downtown to party. Some, like DJ Hollywood, performed in the downtown disco clubs, so certainly some of the future Bronx hip hop superstars were exposed to Gibbons. As in science, multiple discovery is common in music. Sometimes, the time is right for something to happen, and more than one person makes it happen at the same time. Percussion-rich records were suddenly common, turntables capable of slip cueing and quick mixing were new to the market, and professional mixers geared towards DJs, with cross-faders and headphone cueing were also new. Everything was ripe for DJs to take things to a new level, which they did, so it would not be surprising if Gibbons and Herc discovered the same thing independently of one another. We'll probably never know.
What Kool DJ Herc did undeniably revolutionized music, and he deserves every bit of fame, credit, and praise he is given, and then some. His parties spawned Afrika Bambaataa and Grandmaster Flash, and that trio gave birth the hip hop nation. That said, when it comes to two-copy, breakbeat extension, Walter Gibbons got there first. His efforts are less celebrated, which I think is a shame. What he started doing in the early '70s gave birth to the remixing techniques that propelled disco to the stratospheric heights it reached, and are still the de facto standards today.
If you know of Walter Gibbons at all, it may be due to his 1986 remix of "Set It Off," a track by electronic musician Steve Standard, who recorded under the stage name Strafe.
For 1984, "Set It Off" sounds well ahead of its time, and you can hear the roots of modern house music in Gibbons' remix. It was released at a time when disco and electro music sounded nothing like Strafe. As he had done years earlier for disco, with the original "Set It Off," Gibbons created a blueprint for the sound that would become modern house music, a blueprint that nearly every subsequent producer and remixer has followed, which is why when we hear this song today we think "house music," while those who heard it in 1986 thought "future music."
You can hear Gibbons' original mix, along with some remixes, of the dance classic "Set it Off" right here on Heavy Hits.
Every disco, hip hop, and electronic DJ owes an eternal debt of gratitude to the late Walter Gibbons.
Load More