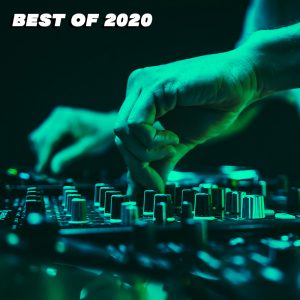 New year's are always a big chance to look forward to the fresh year ahead, to make plans, resolve to improve, all that stuff – but its also important to reflect on the year just gone, and as DJs it is a good idea to have a look back at the big tracks of the year. Its also a GREAT opportunity to pick up gems you missed out on, or grab the top tracks from genres you don't specialise in but want to be ready for if the need arises.
So, we at Heavy Hits pool have got your backs – we've put together 6 "Best of 2020" playlists across our main genre categories of Hip Hop/R&B, Electronic/Dance, Pop/Top 40, Latin, Reggae/Dancehall, and International.
For obvious reasons, this was an unusual year for music. Most clubs in the world were closed for most of the year. Almost no festivals took place. But DJing was still happening all over, largely thanks to the emergence of live-streaming as a popular medium.
Despite this, the #1 Hip Hop track was a straight up club banger – WAP. This tune is basically a cultural phenomenon at this point, launching a million memes, remixes and parodies. The influence of TikTok is all over the placing of Toosie Slide at #2 – that one really felt like Drake seeing if he could turn social media dances to his advantage! There's no real surprises in this chart – Pop Smoke, Megan Thee Stallion, Roddy Ricch
In Electronic/Dance, the leading download is Roses (Imanbek Remix) by SAINt JHN, which has big ever since it came out – and again, the influence of TikTok can't be ignored here. Like it or not, if a song goes viral on there, it makes a big difference. Fortunately, this song is a banger! Meduza & GOODBOYS reunite with Lose Control, this time joining forces with Becky Hill – a worthy follow up to Piece Of Your Heart! And in #3 is Joel Corry with Head & Heart, which of course was the focus of the competition we ran last year – check out the winners here!
Pop/Top 40 has a lot of familiar names at the top spots – Justin Bieber at #1, The Weeknd at #3, but sneaking in at #2 is comeback kid Scott Storch with his latin hit Fuego Del Calor – great to see him back in the mix, he's one seriously talented producer. Special mention here to the track in #7 – DJ AndOne's brilliant edit of Bee Gees and Bruno Mars, a genuine hands-in-the-air party rocker!
The most-downloaded Latin song of 2020 was Tusa, by Karol G & Nicki Minaj. Most unexpected sample of the year has to the Spongebob infused Agua by Tainy & J Balvin… did not expect that when I first listened, will have to take a place in my crates next to the Elephant Man classic! As with the other charts, lots of familiar names – Daddy Yankee, Bad Bunny, 6IX9INE and others feature prominently.
Reggae/Dancehall's top spots are a mix of new, in the form of Buju Banton's Trust Remix, and then some stone cold classics, such as Beenie Man – King Of The Dancehall, and Sean Paul – Temperature.
The International chart is dominated by Afrobeats, with Burna Boy taking the top 2 spots, and 4 of the top 10! I'm a big fan of Aya Nakamura, and she appears with Jolie Nana (DJ Mighty Club Edit).
Go check out the full charts, and all the latest hits, at the Heavy Hits pool!
Load More