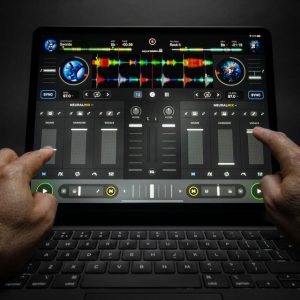 Every so often something comes along that just leaves you scratching your head thinking "how the hell does that work?". Having a rotating plastic disc that you drop a diamond-tipped needle into, and the bumps in the groove convert into music. A smaller plastic disc with a load of 1s and 0s that you fire a laser at. A disc with a control tone that you send to your laptop in order to control the 1s and 0s on your hard drive. All absolutely bonkers when you think about them for a second or two.
Well – here's another one.
Algoriddim's djay Pro app, available across OSX, iOS, Windows and Android, has just unveiled an incredible new feature for the iPhone and iPad app, powered by Neural Mix Technology. For now it is not included in the Mac, Windows or Android apps.
Essentially, you can isolate drums, harmonic content (the instruments in the songs) and vocals, as 3 separate elements. But you can do it in real time, as you mix. So if inspiration strikes, you can do some frankly crazy stuff with no preparation necessary. If that is confusing you, let Crossfader explain in a bit more depth, and demonstrate how it works (and sounds!)
As you can see, it is remarkable. Obviously, the big downside here is that it is built into a software app that few serious DJs currently use, and limited to iOS. But sometimes this is the kind of breakthrough needed to get people to take a new app seriously, or motivate the existing kingpins to develop similar on their software – I have already been on to Serato to register my views!
For a bit more of an idea, here's DJ Yoda messing about with it on his iPhone over on his Twitch. Really interesting what he was able to throw together in this little experiment. Seems that the era of the mashup may be returning in full effect!
Load More