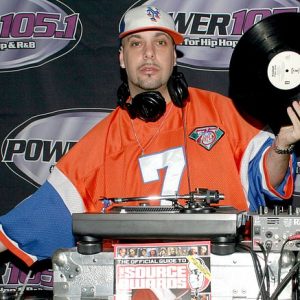 On 10th November 2020, the world lost one of the best DJs ever to do it. DJ Spinbad (born Chris Sullivan) was a true legend of the scene – an incredibly skilled DJ, and creator of some of the best, most influential mixes ever recorded. He was 46.
A fixture on New York radio for many years, Spinbad was probably best known for his wildly creative 80s Megamixes. As A-Trak put it,
"The level of artistry that he put into his mixtapes… he sent everyone back to school. Those "80s Mega Mix" tapes changed the game, straight up."
DJ Yoda spoke of how greatly Spinbad influenced his style, and opened doors for other DJs to walk through.
'Spinbad is one of the main reasons that I am a DJ. Let me tell you how important his infamous 80s pop mix is. Spinbad was the first hip-hop mixtape DJ to leave the comfort zone of rap music. He showed me that music isn't something you need to be embarrassed about.'
I would say that open-format DJing as we know it goes back to those mixes. It is hard for people who didn't see the impact to understand the degree to which he liberated DJs from having to feel like some music was off-limits, not cool enough to be taken seriously. I remember hearing about them, and ordering them from Turntable Lab, and being so excited when they arrived via airmail. They totally opened my mind.
But he could throw down hip-hop better than the rest too – his Cold Cutz Remixes mixtape with DJ JS-One is a masterclass, and his FABRICLIVE mix stands as one of the very best from that impeccable series.
In particular I loved this incredible mash-up of KRS-One's Hip Hop vs Rap from Cold Cutz Remixes, cutting up the suitable instrumentals as KRS rapped through dozens of hip hop anthems. I was lucky enough to pick this up on 12″ when it got pressed, and it ALWAYS had people running over to ask what the hell it was!
Spinbad was genuinely an elite DJ. But, more importantly, he was also good man, with the tributes not just focused on his undeniable prowess on the decks, but also on him, as a human. Comedian Russell Peters, who Spinbad toured with, paid tribute to his friend
RIP DJ Spinbad, you will be missed.
Load More