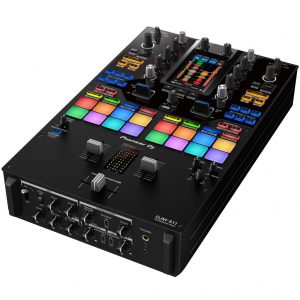 As always, we here at the Heavy Hits record pool have our ears to the ground to find all the best news in DJ tech. This month, there's no denying what the biggest stories are – Pioneer finally launched their CDJ3000 Nexus players, and the long-awaited follow-up to the DJM S9, which they have called the DJM S11 (a nod to the film This Is Spinal Tap perhaps?).
Both look like serious pieces of kit – and come with serious price tags to match. Technology like this is years in the planning, and so the criticism they have faced from some quarters for launching such expensive equipment in the middle of a pandemic (which has devastated the incomes of the global DJ community, and the clubs that they play in) is somewhat unfair. These launch dates will have been planned long before anyone had ever heard of Covid-19.
But anyway, to the actual equipment, starting with the mixer. A friend of the blog, Serato's DJ Blakey, gave us a brilliant walk through in this video – I had planned to visit him in the studio this week, but unfortunately London has just tightened its lockdown and so it will be a while before I can have a play myself!
As you can see, it is a proper piece of kit, with some awesome new features! A touch-screen (with Kaos Pad style FX functionality), scratch banks, a clever way to achieve 4 deck control with just 2 channels on the mixer, FX stacking, splitting the pads for multiple functions, and lots more besides.
The S9 is by far the most popular mixer amongst scratch DJs, and despite Rane's efforts with the recent Seventy mixer, you suspect that many will be looking to upgrade from their S9s soon, now that it has a true successor. Certainly, the reaction from the DJ community has been very positive so far!
The price tag is a consideration though – retail is $1999 in the USA, and £1899 in the UK! The Rane Seventy can be picked up for $1499/£1349.
The Pioneer CDJ3000 Nexus came up in the September round-up, and is fully released now. This one seemed to split the room a bit more amongst people who hadn't tried it, but the users I know who have had a play are impressed.
For an in-depth review, head to this awesome video by Digital DJ Tips. And if you want to see what I mean about this CDJ splitting the room, have a read of the comments!
The biggest complaints seem to be that it doesn't bring much new to the table, and the high cost of a unit – well over £2k. But then – that's roughly what a CDJ2000 Nexus 2 cost, so what price point did people expect?
I will reserve personal judgement until I get to play on them, but as he says in the review – these are largely aimed at the pro user market. Clubs, festivals, gig venues. They have to be built like tanks, and slot in with existing set-ups and workflows. Interesting that they seem to be very upgradable due to the onboard computer chips, and so a whole range of extra features should come in future updates.
Shazam for Humming
Yes, that's right. You know when you have a song in your head that you heard somewhere, but you didn't manage to Shazam it while it was playing? You can remember the melody, or a lyric, but you have no way of knowing the song?
Well… Google has just launched a remarkable service where you can hum or sing into the search app on iOS an Android, and it tries to match the song. I tried it myself – I would say it was roughly a 70% hit rate, getting tracks as wide-ranging as Bee Gees, Julio Bashmore, Pixies and Nelly right!
Check out more here
Streaming
In 2020, many DJs are using live-streaming to reach their fans (including the rapidly growing Heavy Hits Twitch channel!), and Mixcloud have announced a ticketed live-streams feature on their platform. More details here – the ability to charge people to access specific streams, much like a gig ticket, will be appealing to more established DJs in particular.
Acieeeeeeed
A fun website has sprung up here – an online 808 drum machine and 303 bass synth emulator, the two classic sounds of the acid house revolution in the late 1980s! Its pretty straightforward to use, and sounds just like the real thing (although with a lot less control over most of the elements).
As always – head to the Heavy Hits record pool to get the best new music!
Load More