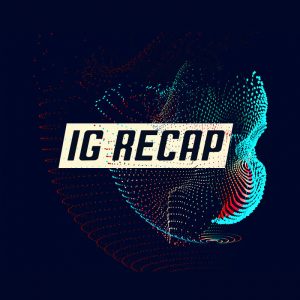 IG Recap – What's Some Advice You Wish Someone Gave You When You First Started DJing
There's a million ways to DJ well, and even more ways to make mistakes, and learning from the global DJ family is a great way to expand your skillset, and avoid making mistakes.
We asked our online community what advice they wish they had been told, and here's a selection of the best. Whether you are a new DJ learning the ropes, or an old DJ that has their familiar routines, it's always a good idea to listen to others, and learn from them.
First up – you're gonna need to learn how to DJ! We all know how much we want to get out there in front of an audience, but as @djbenboylan pointed out, its a good idea to be confident you will give a good performance when you get out there. And as @jamixdjreg says, when you do, stick to things you have learnt and mastered at home – if you have crazy ideas in the moment, don't be surprised if you don't nail it first time!

Meanwhile @deejay_lyle and @djflaconyc pointed this truth nugget out – DJing is a musical discipline, so learn how music is constructed. Beats and measures, song structure, how the scales work and so on. You don't have to become a classical pianist, but understanding this stuff will really improve your DJing if you apply it wisely.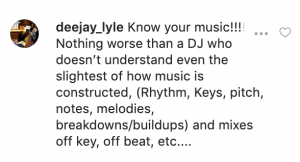 However – as much as we play music and are performers, modern DJing has a librarian aspect to it too. You will end up with thousands upon thousands of songs, and as @djrob.oh and @djisaacjordan point out, how you manage that is important. Use genre tags, mark your clean edits, use the comment fields to describe tunes – when you are searching for that song, it's SO useful to be able to narrow it down by entering certain key words that you know apply to it (trust us, you will sometimes forget the names of songs and artists, but know the one you need!)

@djn3mesis points out the importance of networking – as they say, it's not what you know, it's who you know, and knowing the people who book DJs in your town is a HUGE advantage!

A big thing many DJs get stuck on is trying to be all things to all people – but you'll do much better if you work out what you enjoy and what you are good at, and focus on that, as @nina_vicious and @dj_ceelos suggest here.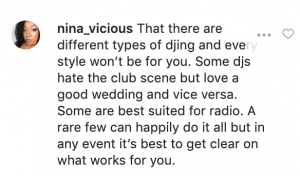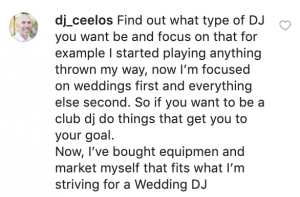 This is a contender for #1 on the DJ Commandments, yet so many overlook it – not @djmikemedium though! Have a backup at home. Have a backup at a friend or relatives house. Have a cloud backup. Have as many backups in as many places as you can afford, and if you don't have a backup, be confident that you can afford to start from scratch! If you don't, you have nobody to blame but yourself if your music collection disappears one day!

@dj_franky_fingers makes the crucial point to keep your head up and pay attention to the crowd in front of you – sometimes you have to deviate from what you had in mind if you want to give the crowd the night they deserve!


DJing and nightlife is a community – you get back what you put in, as @djillskills and @djisaacjordan both explain.

They say you become the average of the 5 people you spend most time with. If all your friends do is party, then it's likely that's what you'll end up doing. If they work at their DJing and production, they will inspire you, and you can inspire them back! @djaalex suggests that you should look for goal-driven people to help with that

We all want to be the headliner, but as @djjonnysanchez points out, understanding how to program a night and play a warmup properly will make you a MUCH better DJ, and more valued by club owners and promoters.


Buy cheap, buy twice! @djmike._d suggests you save longer to get the right equipment from the start!

"Industry rule 4080 – record company people are shaaadyyyyy" – Q-Tip. Sadly, this is true of plenty of people in nightlife too. As @djlivnlearn says, don't let this put you off – stay vigilant, and avoid people you can't trust. Work with and help the good people, and the nicer and more honest you are, the more others will want to work with you!

Painful truth nugget from @wikymusic! ?

Great advice here from @monarck! And what better pool to get started with than Heavy Hits!

Load More