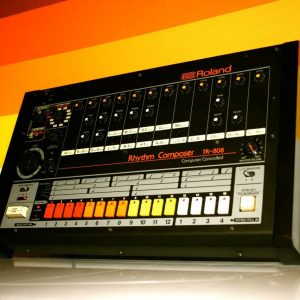 One of the most significant dates in the DJ calendar (along with the 12th of October, or the 10th of December, depending on how you do your calendar for 1210…) is the 8th of August – 8/08
Why is that? Because one of the foundational instruments of modern music is the Roland TR-808 drum machine, famous for its huge, booming kick drum. The basis of electro, hip hop, house, techno – music as we know it simply wouldn't exist without the influence of this instrument.
First released in 1980, this drum machine was initially not much loved due to the unrealistic representations of drum sounds. But pioneering use by the likes of Afrika Bambaata and Marvin Gaye broke the sound out to the masses, and before too long the distinctive sounds were everywhere. Now it is reckoned to be on more hits than any other drum machine, and still features prominently in a huge number of genres and styles.
And this being Heavy Hits, we've compiled some of the best of those many, many hits into one brilliant playlist, which you can find here.
If you want to take your DJing to the next level, how about this insane Pioneer controller, the DJ-808! Skratch Bastid really puts it through its paces here!
Of course you could always buy an original unit, but they are a little bit pricey these days…  if you don't have $5000 sitting around to drop on an original vintage unit, but want to have a play around with the sounds of an 808, check out this awesome online emulator here.
In the meantime, follow Heavy Hits on Instagram, Twitter and Facebook!
Load More